Ellen White says England are looking to put in a "really big performance" when they take on Norway on Monday in their second Euro 2022 group game.
The tournament hosts opened their campaign on Wednesday with a 1-0 win over Austria at Old Trafford in front of a competition-record crowd of 68,871.
Echoing boss Sarina Wiegman's post-match comments, White has said there are "things we could definitely improve on" from that display as the Lionesses – who are three places above their opponents in the FIFA world rankings – prepare to take on a Norway outfit who beat Northern Ireland 4-1 at St Mary's Stadium in their opener on Thursday.
Ahead of Monday's contest at the Amex Stadium, White said: "First and foremost I think it [Wednesday] was just an incredible occasion, 68,000 people coming out watching England. The noise was absolutely insane. We're so thankful for everyone coming out and super proud.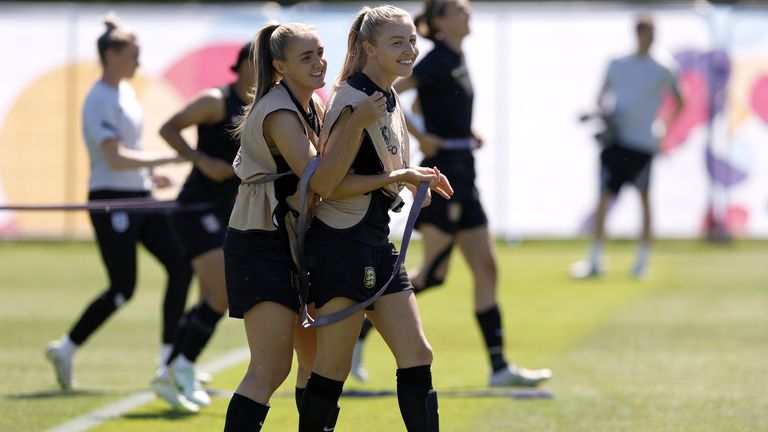 "Our main priority was three points, obviously. There's things we could definitely improve on, and we're looking to improve on going into the game on Monday. I think maybe we could have scored a few more goals, or made some better decisions in that final third.
"Ultimately, it's room for us to grow in this tournament. It's only game one. We'll continue to grow hopefully and we've been out on the training field and wanting to improve and wanting to develop, and hopefully you'll see that on Monday.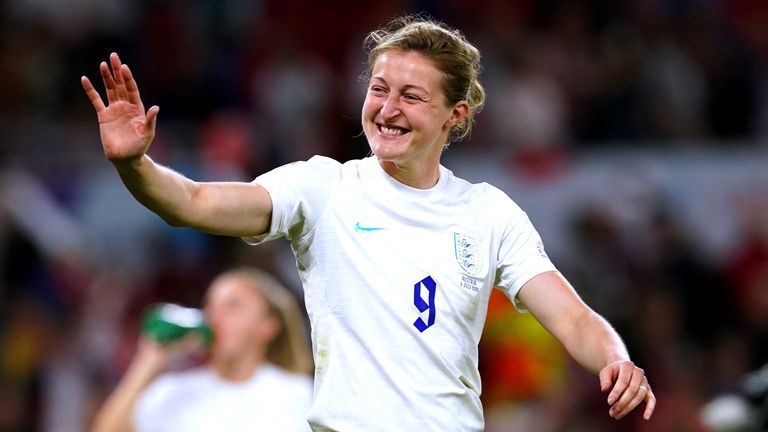 "We've analysed the Austria game and the areas we wanted to improve – possessing the ball and in the final third, and wanting to be more clinical. We want to go into this Norway game and hopefully put on a really big performance."
Among the prominent names in Norway's ranks is Lyon forward Ada Hegerberg, the 2018 Ballon d'Or winner who last season returned to action after an ACL injury and then ended a self-imposed exile from her national side, having stepped away from it in 2017, unhappy at how women's football was being run in the country.
The team were 2-0 up inside the first 15 minutes against Northern Ireland and 3-0 ahead just after half-hour mark.
Please use Chrome browser for a more accessible video player
A special documentary with archive footage and exclusive interviews profiling England manager Sarina Wiegman who hopes to inspire the Lionesses to glory at Euro 2022.
White added: "They had a pretty good start, didn't they – I went out to get food and they were 2-0 up!
"I think they're a phenomenal team, and this is a really tough group. But we watched it, we've analysed it and we're fully focused on what we can do. It's a big, big game for us, and we're excited for it. I think we have to be really wary of the frontline and the players they have."
White is the Lionesses' record scorer with 50 goals and was the joint-highest scorer at the 2019 World Cup, netting six times.
Wiegman: Pressure should be felt by both sides
Please use Chrome browser for a more accessible video player
England manager Sarina Wiegman says England don't feel under any pressure ahead of their match with Norway in the UEFA Women's Euros.
England boss Sarina Wiegman has disputed the suggestion that all the pressure is on the Lionesses ahead of Monday's clash in Brighton.
Wiegman's counterpart Martin Sjogren said in his pre-match press conference at the Amex Stadium that he felt Norway were "definitely" the underdogs going into the Group A meeting with the Euros hosts, adding: "I think England is one of the big favourites for the tournament. I think England feels quite a lot of pressure from being at home.
Wiegman's press conference followed, and when she was asked about Sjogren's comments and if it was fair to say all the pressure was on England, she said: "I don't think so.
England in fine fettle
Beth Mead's winner against Austria extended her Lionesses record one-season goal tally to 15
England's matchday 1 victory took their winning streak to seven games; they have only once recorded a longer stretch, winning nine in a row from November 1972 to April 1975
The Lionesses have now recorded four Euro group victories in a row; having managed just two in the previous 12
That success over Austria increased England's best-ever unbeaten run to 15 games, all under Sarina Wiegman (W13 D2); they have scored 85 goals in that time, conceding just three
England have kept 12 clean sheets in their 15 matches since Wiegman took charge
Including her spell as Netherlands boss, Wiegman has won all seven of her Euro games as a head coach; the Oranje also began their successful Euro 2017 tournament with a 1-0 matchday 1 victory, against Norway
"I think Norway has to win too, to be top of the group. We want to win. It's easy to say that the pressure is on.
"We know what we want – we want to play our best game, to entertain, and of course to win games. Our next game is tomorrow against Norway, so we want to win that game, and that is what we are talking about – develop our style of play, play our best game, do our best, and then we see what that brings us."
She added: "If they want to be the underdog, that's fine. I think they have a very strong squad, and we do too, so I expect an open match and we'll see where it goes."
Defender Lotte Wubben-Moy, having tested positive for Covid-19, is the only player in England's squad unavailable for the game.
Hegerberg "great for women's game"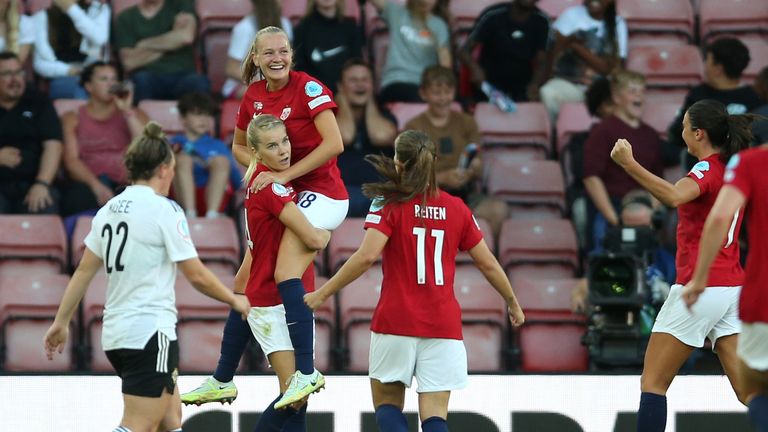 On Norway's star striker Hegerberg, Wiegman said: "We've analysed them of course. They have a good team, and they have Hegerberg back.
"Having a personality and a player like that on big stages is very good, and good for the women's game. You want the best players on the biggest stages.
"We also think they have some weaknesses, and we hope to exploit that."
Keep up with all the latest from Euro 2022 across Sky Sports and Sky Sports News this summer.
Coverage will be anchored by Sky Sports WSL presenter Caroline Barker, alongside Jessica Creighton and Kyle Walker. Meanwhile, Karen Carney, Sue Smith, Courtney Sweetman-Kirk and Laura Bassett will give analysis throughout the tournament.
They will also be joined by experienced England goalkeeper Karen Bardsley and Manchester City defender Esme Morgan.
The pundits and presenters will work from the Sky Sports Women's Euro 2022 Mobile Presentation Bus, which will follow the Sky Sports News team around the country to the various stadiums where matches are being played.
In addition, Sky Sports' Essential Football Podcast will be rebranded for the tournament to Sky Sports Women's Euros Podcast from 21 June. Hosted by Charlotte Marsh and Anton Toloui, it will feature exclusive news and player interviews in addition to a strong programme line-up around the tournament.
Group A: England, Austria, Norway, Northern Ireland
Group B: Germany, Denmark, Spain, Finland
Group C: Netherlands, Sweden, Portugal, Switzerland
Group D: France, Italy, Belgium, Iceland
Group stage
Wednesday July 6
Group A: England 1-0 Austria
Thursday July 7
Group A: Norway 4-1 Northern Ireland
Friday July 8
Group B: Spain 4-1 Finland
Group B: Germany 4-0 Denmark
Saturday July 9
Group C: Portugal 2-2 Switzerland
Group C: Netherlands 1-1 Sweden
Sunday July 10
Group D: Belgium 1-1 Iceland
Group D: France vs Italy – kick-off 8pm, New York Stadium
Monday July 11
Group A: Austria vs Northern Ireland – kick-off 5pm, St Mary's
Group A: England v Norway – kick-off 8pm, Brighton and Hove Community Stadium
Tuesday July 12
Group B: Denmark vs Finland – kick-off 5pm, Stadium MK
Group B: Germany vs Spain – kick-off 8pm, London Community Stadium
Wednesday July 13
Group C: Sweden vs Switzerland – kick-off 5pm, Bramall Lane
Group C: Netherlands v Portugal – kick-off 8pm, Leigh Sports Village
Thursday July 14
Group D: Italy vs Iceland – kick-off 5pm, Manchester City Academy Stadium
Group D: France vs Belgium – kick-off 8pm, New York Stadium
Friday July 15
Group A: Northern Ireland v England – kick-off 8pm, St Mary's
Group A: Austria vs Norway – kick-off 8pm, Brighton and Hove Community Stadium
Saturday July 16
Group B: Finland vs Germany – kick-off 8pm, Stadium MK
Group B: Denmark vs Spain – kick-off 8pm, London Community Stadium
Sunday July 17
Group C: Switzerland vs Netherlands – kick-off 5pm, Bramall Lane
Group C: Sweden vs Portugal – kick-off 5pm, Leigh Sports Village
Monday July 18
Group D: Iceland vs France – kick-off 8pm, New York Stadium
Group D: Italy vs Belgium – kick-off 8pm, Manchester City Academy Stadium
Knockout phase
Quarter-finals
Wednesday July 20
Quarter-final 1: Winners Group A v Runners-up Group B – kick-off 8pm, Brighton and Hove Community Stadium
Thursday July 21
Quarter-final 2: Winners Group B v Runners-up Group A – kick-off 8pm, London Community Stadium
Friday July 22
Quarter-final 3: Winners Group C v Runners-up Group D – kick-off 8pm, Leigh Sports Village
Quarter-final 4: Winners Group D v Runners-up Group C – kick-off 8pm, New York Stadium
Semi-finals
Tuesday July 26
Semi-final 1: Winners quarter-final 1 v Winners quarter-final 3 – kick-off 8pm, Bramall Lane
Wednesday July 27
Semi-final 2: Winners quarter-final 2 v Winners quarter-final 4 – kick-off 8pm, Stadium MK
Final
Sunday July 31
Winners semi-final 1 v Winners semi-final 2 – kick-off 5pm, Wembley