By Ruth Bradley
Political reporter, BBC Somerset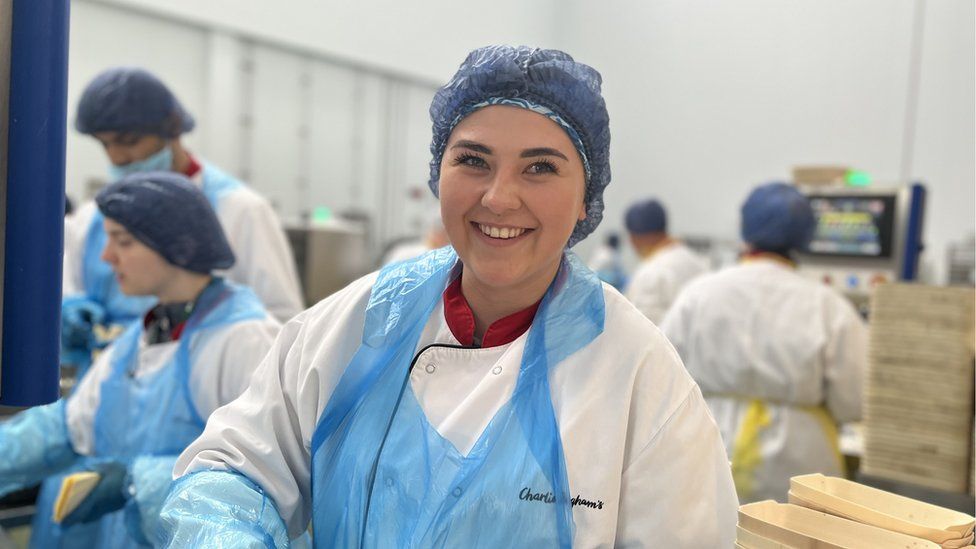 A group of Ukrainian refugee women say they are thankful to have found jobs in Somerset.
Three women who are being hosted by a local family, have been given roles at a ready meal factory near Wells.
Yana, 23, said: "It's very important to work, because it's too difficult to sit at home and watch all the news about Ukraine.
"When I'm working, I'm focused on the job and not all the time [having] my mind in Ukraine," she said.
Charlotte Joyner, People Business Partner for Charlie Bigham's, met the women at a recruitment open day with their host family.
She said it is currently "quite hard" to fill vacancies and lots of jobs remain available for local people as well.
The factory, which was built five years ago in a disused quarry, produces up to 420,000 meals each week with 24-hour working.
"The market at the moment is a candidate-driven market," Ms Joyner said.
"We have plenty of opportunities, we want people who want to work, who enjoy working with food."
Yana, speaking through a translator, said she has had a job since she was aged 15 and wants to continue to expand her skills and experience, while also taking her mind off events in Ukraine.
Yana's cousin Alina, 26, who worked as a chef in Ukraine, said she wanted to thank "everybody" at the factory.
"We don't know English and everybody is helping explaining and showing [us] what to do."
The three women were working together in the same restaurant in Ukraine before the war.
Karyna,18, Yana's sister, said: "Thanks to Charlie Bigham's, now that we have the job here, we can earn money and help our family in Ukraine."
The three women had never left Ukraine before and spoke very little English. The company said it offers its staff English lessons.
Ms Joyner said it had been "humbling" to offer the women jobs.
"We see what's going on in Ukraine but we have busy lives, we go to work and forget.
"So when you meet real people affected by the war, and see how you can positively impact and give some stability – given what people have been through -it has been amazing to be able to help the ladies and their families."