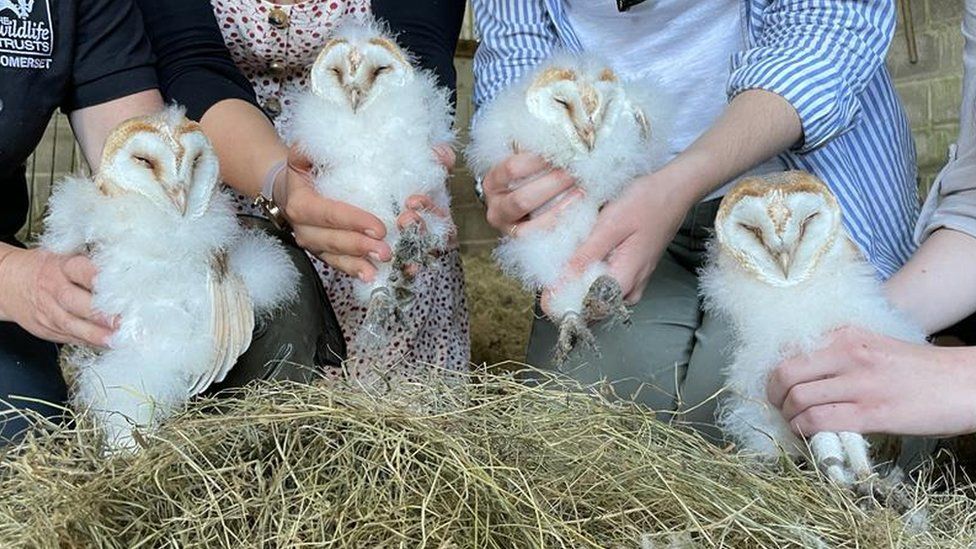 The sight of baby owls growing up in a barn nesting box is once again proving popular on the internet.
The four owlets are being streamed live via a "nest cam" by the Somerset Wildlife Trust, with thousands of people logging on day and night.
The owlets, who were born in April, have now been ringed so they can be tracked in the future.
But for now, the owlets are being looked after at a secret location in the Blackdown Hills.
They were born to father, Finn, and mother, Trude, who are busy each night catching three voles for each of their four young.
As nocturnal animals they slept through the ringing process, which helped those attaching the identity tags.
Trainee bird ringer, Mark Winsloe, said: "You've got to be very careful with the talons, clearly that is what they use to hunt with, and they will be practicing kicking and pushing their legs now, so it is just as well to keep a wary eye on the talons."
Kirby Everett, from the charity, said: "At the end of last year, we were delighted to announce the start of a brand new initiative, The Great Somerset Wildlife Count, where, with the incredible help of our members, supporters, and the general public, we aim to track the progress of specific species living in Somerset by collecting information about them on our doorsteps, in our parks, and in our community.
"Whether you are walking the dog, whether you are out in the garden, in a public park, just literally count what you see."
The data collected will help build up a picture of how climate change is effecting Somerset's wildlife.
Related Internet Links
The BBC is not responsible for the content of external sites.