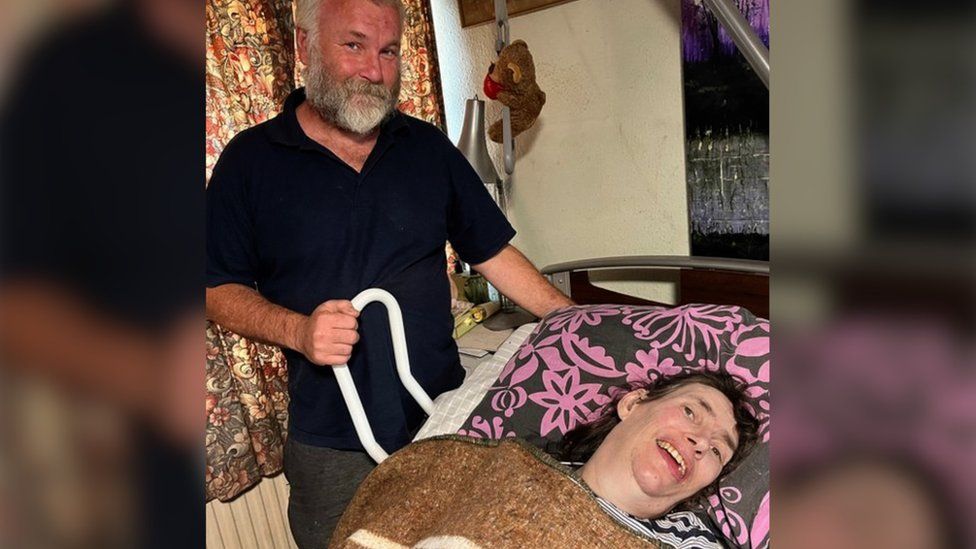 A man says he was denied time with his dying wife because she was waiting in hospital for six weeks for a social care package.
Andy Shearman, from Ilminster in Somerset, described the system at Musgrove Hospital as "organised chaos".
His wife Hilary is now home and receiving palliative care.
Somerset NHS Foundation Trust said the safety of its patients, colleagues and visitors was "of the utmost importance".
A spokesperson apologised that Mrs Shearman "has not had the experience she should expect from our services" and said the trust was in touch with the family.
Hilary Shearman, 58, is in the end stages of a degenerative condition which she was diagnosed with 18 years ago.
She was admitted to Musgrove Park Hospital in March and remained there for almost four months, despite being medically fit for discharge for the final six weeks, according to her husband.
'Absolute miscommunication'
Mr Shearman, 54, said the the care and communication from the hospital was "1,000 times worse" than it was on pre-pandemic inpatient stays.
"It's been an absolute miscommunication all the way through her stay," he said.
He said he was not informed that she had been moved to a different ward.
"I had to ring the PALs (Patient Advice and Liaison Service) team to find out where my wife was. That's fundamentally not right."
He said Mrs Shearman had been moved to a locked ward, so he could not visit her for six weeks, with phone communication not an option.
During the rest of her stay she was allowed one visitor for one hour a day, which her husband said meant, with other family wanting to visit, he often did not see her more than once or twice a week.
"Purely unacceptable"
It also meant he often could not speak to her doctors for updates and struggled to get information over the phone.
The trust said it had to take "difficult, but necessary decisions" during the pandemic, citing high community infection rates across Somerset.
Mr Shearman called the situation "purely unacceptable", especially for people with life-limiting illnesses.
He said he was not aware at the time why there was a hold up in Mrs Shearman being discharged, but said the hospital appeared to be short staffed.
On one occasion a nurse arrived 25 minutes after calling for them, which "really is unacceptable", Mr Shearman added.
Mr Shearman also said he was told there was a delay arranging social care for his wife at home.
Lucy Muchina, the South West's regional director of the Royal College of Nursing said, speaking generally, just a quarter of all shifts had the planned number of registered nurses, making it "very difficult" for nursing staff to meet care needs.
"They're trying to do the best that they can with what they have," she told BBC Radio Somerset.
Mr Shearman said he was not the type of person to complain but the situation had left him "frustrated" and "annoyed".
A spokesperson for Somerset NHS Foundation Trust said a "number of reasons" including a "significant increase" in demand for its services, were to blame for delays in medically-fit patients being discharged from hospital into other care settings.
They said they were doing "everything" they could to reduce these delays and to develop services that help patients when they return home.
Related Internet Links
The BBC is not responsible for the content of external sites.