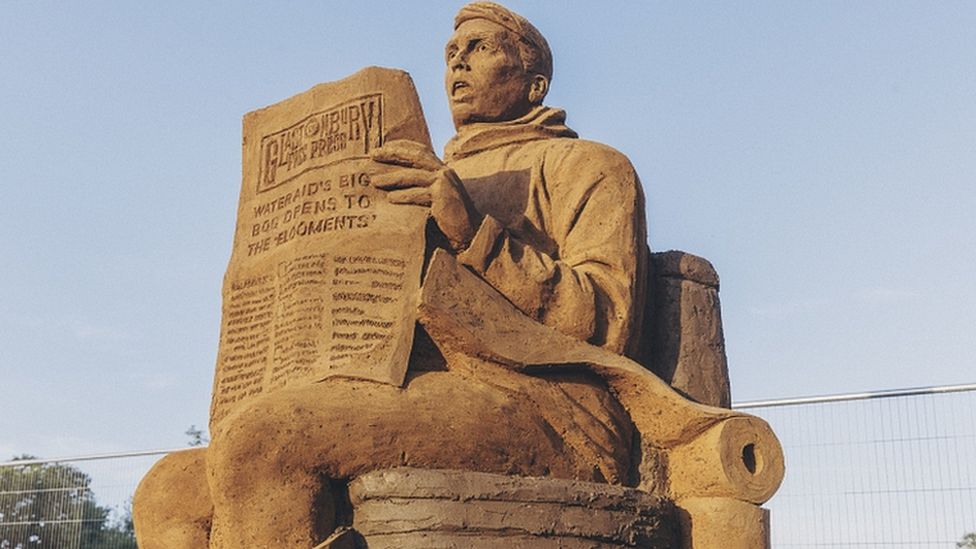 A huge toilet sculpture made of mud is on show at Glastonbury Festival.
The 2.5m (8.2ft) model was presented by charity WaterAid to raise awareness of climate change and the limited access to water for worldwide communities.
Tim Wainwright, chief executive of WaterAid, said: "Toilets and mud are two things synonymous with festivals, and while this sculpture is a bit of fun, it relays an important message."
The sculpture is located near the Somerset festival's Pyramid Stage.
Mr Wainwright said the charity, which was "delighted" to be returning to Worthy Farm this year, hope to make a "big splash with the Big Bog".
"The climate crisis is a water crisis, and it is threatening millions of people's access to clean water and sanitation facilities," he added.
The Big Bog was created by artists Sand In Your Eye and took more than 40 hours to make.
During the process of creating it, the team made it susceptible to damage so it cracks if it gets too hot or washes away when it rains – which is symbolic of the climate crisis.
The sculpture has been modelled on WaterAid crew volunteer Tim Lloyd, reading Glastonbury's Free Press newspaper.
He said: "It is an honour to be immortalised in mud here at Glastonbury.
"Whether it's queuing for a drink, waiting to use a toilet, or not being as clean as they'd like, festivals remind people what it might be like for the millions of people who don't have access to clean water or toilets.
"I hope it helps spread the message that everyone, everywhere deserves a clean, safe and reliable toilet.".
WaterAid aim to raise awareness of its campaign, Climate Fight, with the toilet sculpture.
Mr Wainwright added the charity is calling on the government to "lead the way in putting access to reliable clean water and sanitation at the forefront of the climate change agenda".
Related Internet Links
The BBC is not responsible for the content of external sites.