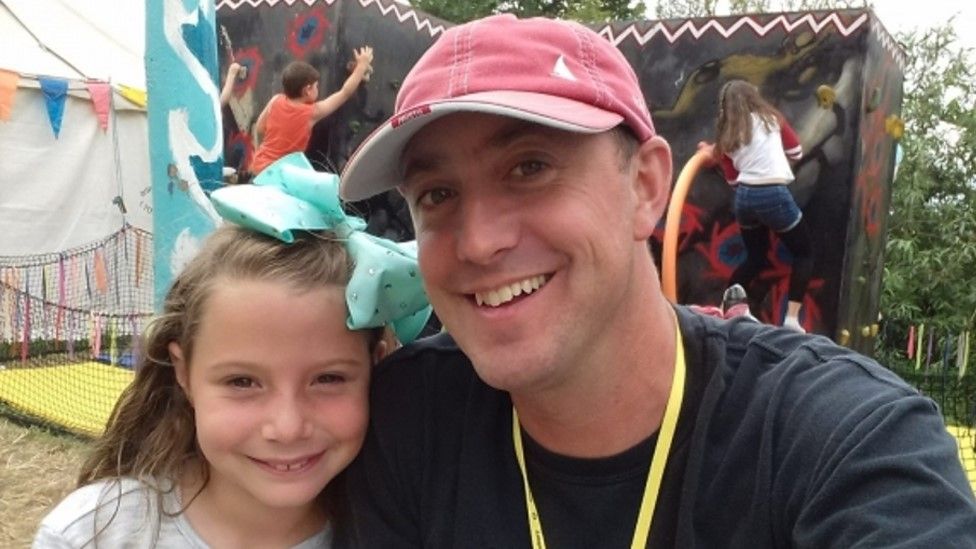 A man who has attended every Glastonbury Festival since 1978 will be returning to "the party utopia" after the festival's three-year break.
Ben Rogers, 45, from Somerset, is set to tackle his 35th Glastonbury at Worthy Farm over the next five days.
"Glastonbury is a party utopia, you can just forget about the outside world for five days," said Mr Rogers.
It is the first year the festival has taken place in person since the start of the pandemic.
Mr Rogers works as a HGV driver and lives in Wells, seven miles from the festival site and this year will be with attending with his son Harry, 14, and daughter Grace, 12.
"I think it's a tradition that will stay in my family forever, it is my son's 11th festival and we first took him when he was six months old," said Mr Rogers.
The last time Glastonbury took place was in 2019 and this is the longest he has ever had to wait between festivals.
"Every four or five years the festival has a year off, and that's hard enough – but the past three were really hard, especially with what's been going on," he said.
"This is going to be a chance to let off steam and lose yourself … it's going to be such a release."
He first attended a small unplanned festival at the site in 1978, aged one, with his now 49-year-old sister Kerry and their parents Pat and Rachel, both 73.
He said his earliest memories of Glastonbury included "terrific" lasers emitting from the Pyramid Stage and "some mud".
"Even though we lived in the village, mum and dad would go down and erect a big tent right in front of the Pyramid Stage up on the hill … we'd all camp down there," he added.
His favourite performances at the festival was David Bowie in 2000, which he said many fans believe to be his best performance ever.
Mr Rogers will be queuing and setting up his camp at the festival on Wednesday morning, before going to pick his children up from school and returning.
The festival will run from Wednesday until Sunday and will host a range of performing arts, with acts such as Billie Eilish, Sam Fender and Kendrick Lamar.