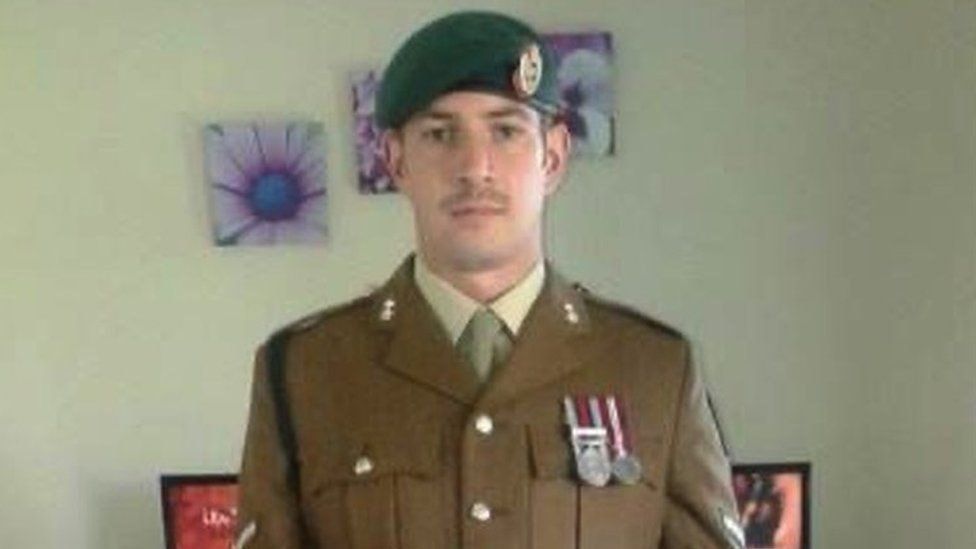 A former soldier has been jailed for at least 38 years for murdering his neighbours after a long-running dispute about parking.
Collin Reeves, 35, killed Jennifer and Stephen Chapple in Norton Fitzwarren, Somerset on 21 November 2021.
He stabbed Mrs Chapple, 33, and Mr Chapple, 36, six times each in their home while their children slept upstairs.
Reeves was handed a life sentence, with minimum term of 38 years.
Jailing him at Bristol Crown Court, Mr Justice Garnham said the killings had "torn the heart out of two perfectly normal, decent families".
"You left (Mr and Mrs Chapple) on the floor bleeding to death, and all of the time their two children were asleep upstairs," the judge said.
"Your murderous behaviour left them orphans.
"They were put to bed that night by their parents and they would never see them again. The harm you did those two innocent children is incalculable."
The ex-Royal Engineer, who had admitted manslaughter, was convicted of murdering the couple last week after a jury took five hours to deliberate.
Mr Justice Garnham also told Reeves he had "inflicted enormous damage on his own daughters, who will now grow up without their father".
Mrs Chapple's mother, Ann Clayton, described her daughter as "an exuberant, caring, beautiful light in the world".
"For a mother to lose a child is something that causes never-ending pain, knowing there will forever be a darkness inside you, a light switched off that can never be replaced," she added.
Stephen Chapple's father Robert said he did not think the family would ever be able to come to terms with what happened.
He said: "We struggle most days to accept reality, to think that we will never see our beautiful son and daughter-in-law again and our two grandsons losing their lovely mum and dad at such a young age.
"It is so hard to get on with everyday tasks. We are very close-knit family and also met up and did lots of activities together, now when we get together there is always a huge void in our lives."
During the trial, the court was told the neighbours' rows escalated to the point both Reeves' wife Kayley and Mrs Chapple had told their friends they were anxious about bumping into each other on the school run.
On the night of the killing, Reeves climbed a fence and entered the Chapple house via their back door.
Mrs Chapple was heard screaming in terror, and the court was told she did not have the chance to stand up from the sofa to defend herself.
Her husband Stephen was found close to the rear door.
In court, Charlotte Callen, BBC Home Affairs Correspondent
Jennifer and Stephen's family had been in court throughout the trial and were back today for sentencing.
They held hands and were visibly tearful as the judge told Reeves he would spend a minimum of 38 years behind bars and that he'd ripped the heart out of two perfectly normal and decent families.
Reeves sat with his head bowed throughout the hearing and said goodbye to his wife as he was taken away.
The former Royal Engineer used a ceremonial dagger, given to him when he left the Army, to kill the couple.
The Afghanistan veteran claimed he had little memory of the incident, and did not remember taking the dagger out of a picture frame in his home, where it was usually displayed.
Reeves called the police shortly after the killings to confess but later denied murder, claiming he was guilty of manslaughter on diminished responsibility.
But two forensic psychiatrists found he was not suffering from psychosis or acute post-traumatic stress disorder, and diagnosed him with only mild to moderate depression.
The trial heard Reeves had been having marital problems and less than an hour before he stabbed the Chapples, his wife Kayley had asked for a trial separation.
After sentencing, Reeves' mother, Lynn, stood up to give her own statement, blaming her son's conviction on failings by the psychiatrists who assessed him.
She claimed there should never have been a trial, and that his pleas to manslaughter should have been accepted, before she was stopped by the judge.
Avon and Somerset Police Det Insp Neil Meade said the Chapples were "doting parents who did nothing to deserve what happened to them".
Related Internet Links
The BBC is not responsible for the content of external sites.