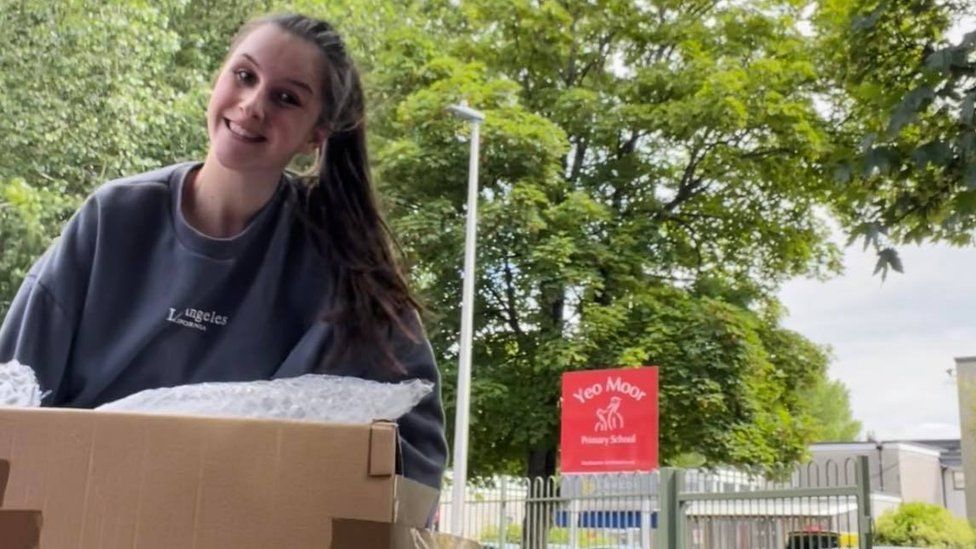 A former wedding planner who lost her job during Covid-19 and set up an art business has donated 520 notebooks to schools in North Somerset.
Ellie Herring, 21, turned to her artistic leanings and started selling decorative stones and other items.
After selling more than 7,000 stones in two years, she reinvested her profits to help local pupils in her home town.
"I come from a big family and getting stationary was difficult. I wanted to help schools in Clevedon," she said.
"If I can give back to children and help the education side of things then I'll do it."
Ms Herring's life ground to a halt when she was put on furlough during the pandemic.
Art passion
"I was thinking to myself that I needed a hobby, so I started decorating stones to sell to friends and family.
"I had always been passionate about art, but lockdown was the motivation for me to try something new," she said.
The business took off, and she moved onto designing notepads.
They were donated to St John the Evangelist, Yeo Moor, Clevedon and Mary Elton schools in Clevedon.
"It was always the goal to give back to Clevedon, it's a small community and everyone knows each other," said Ms Herring.
One school, Yeo Moor, said it was grateful for Ms Herrin's donation.
"We would like to thank Ellie Herring for her fantastic, and huge, donation of bespoke notepads we have recently received.
"They will go a long way and help the children at Yeo Moor with their learning," said a spokesperson.