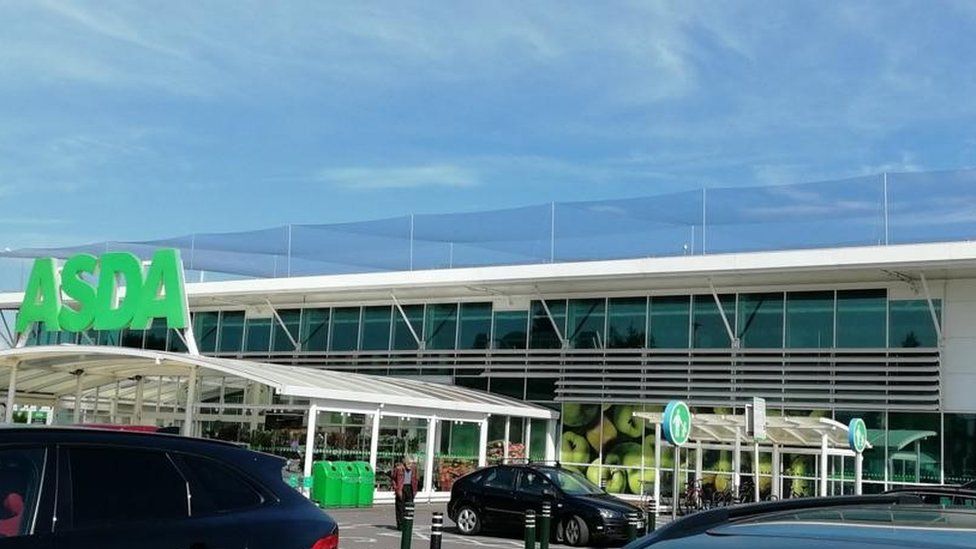 Supermarket chain Asda has been criticised for using anti-bird netting on the roof of one its stores, after a customer photographed a dead bird on it.
Carl Bovis, from Somerset, said seeing the bird at the Bridgwater shop had left him "shaking with anger".
He and the RSPB charity have urged Asda to remove the netting.
Asda said it was put up to stop birds injuring themselves on a refrigeration unit at the store.
A spokesman for the supermarket said a member of staff removed the dead pigeon, adding it was not trapped in the netting.
Warning: This story contains a graphic image that some readers may find upsetting.
Mr Bovis said Asda needed to take the netting down as it was "deadly for birds".
"I was fuming when I saw the dead bird, I was shaking," he added.
Mr Bruce-White, operations director for RSPB, said: "We share the horror of everyone seeing the photos.
"We've lost 38 million birds in the last 50 years in the UK and we need to be doing everything to reverse this decline.
"We cannot keep trying to squeeze nature into smaller and smaller spaces or demanding it fits in with our plans."
An RSPCA officer attended the site on Tuesday but the bird was no longer there, the charity said.
A spokesperson said it received more than 1,600 reports about wild birds trapped in or behind netting last year, many involving bird-deterrent netting.
Birds can "suffer a long and painful death from injury or starvation" if they become stuck, they added.
Mr Bruce-White urged Asda "to look at alternatives that pose less risk to wildlife".
Asda said it installed the netting 18 months ago to stop birds being injured by machinery on the roof.
A spokesperson for the supermarket said it had seen a "significant reduction" in casualties since then.
Related Internet Links
The BBC is not responsible for the content of external sites.